For not declaring total lockdown at the peak of COVID-19 pandemic in Nigeria, Governor Seyi Makinde's measures yielded result as Oyo state Internally Generated Revenue increased by 42.23 per cent in 2020.
According to National Bureau of Statistics (NBS) latest report on "Internally Generated Revenue at State Level" for Fourth Quarter and Full Year 2020, Oyo state generated N38.042 billion internal revenue in 2020.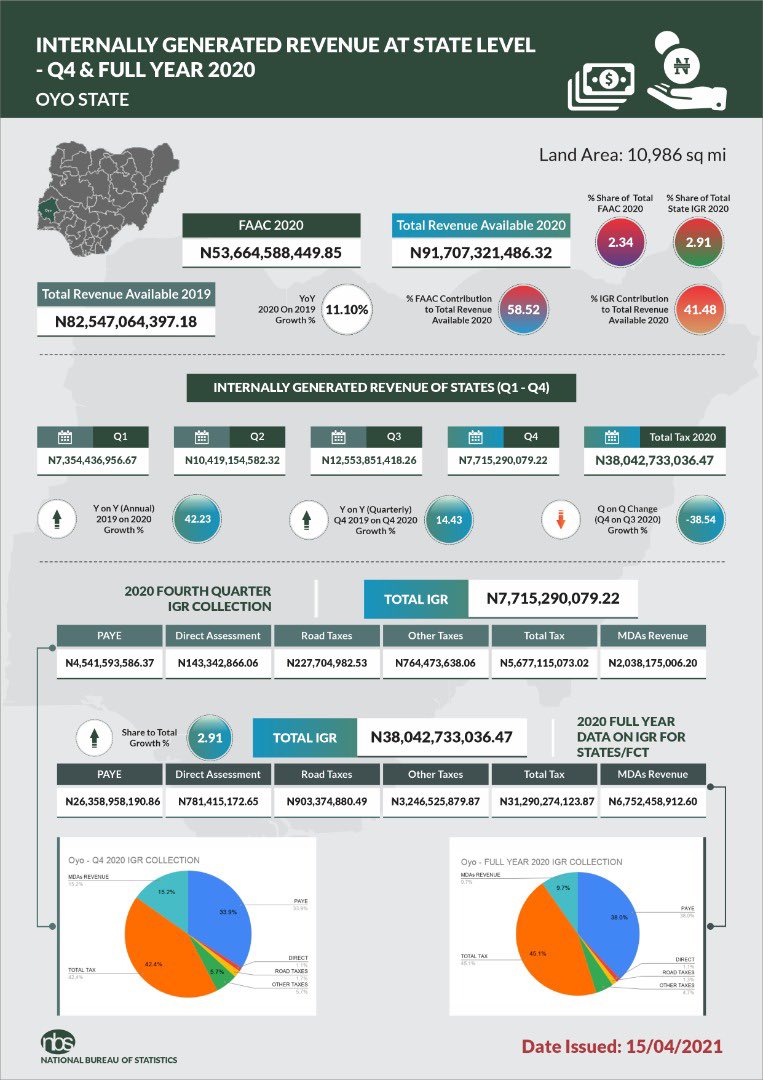 The 36 states and the Federal Capital Territory (FCT) generated N1.31 trillion as Internally Generated Revenue (IGR) in 2020 compared to N1.33 trillion recorded in 2019.
According to the report, it indicates a negative growth of -1.93 per cent year on year.
It added that the Q4 2020 states and FCT IGR figure was N335.25 billion compared to N338.57 billion recorded in Q3 2020. This indicates a negative growth of -0.98 per cent quarter on quarter.
The NBS said that Lagos state recorded the highest IGR of N418.99 billion, closely followed by Rivers with N117.19 billion and the FCT with N92.05 billion.
Others on the top states list include:
Delta state recorded N59.732 billion
Kaduna N50.768 billion
Ogun N50.749 billion
Oyo N38.042 billion
Kano N31.819 billion
Akwa Ibom N30.696 billion
Anambra N28.009 billion
Edo N27.184 billion
Ondo N24.848 billion and
Enugu N23.650 billion.
Insideoyo.com recalls that Governor Seyi Makinde stood on his ground that he will not order a total lockdown in the state during the first wave of the deadly coronavirus disease.
"Yes, Lagos can be on lockdown, Ogun can be on lockdown, Oyo State, yes, people have been saying have a total lockdown and then I have been asking them questions. What will be the benefits here? Are there alternative courses of action for us to take?
"If you ask people not to come out, you lock down the market places, there are people that what they sell today – the profit from today's activities is what they will eat tomorrow. There are plenty people like that within our environment. So, are there alternatives available to us? Can we do selective lockdown? That's why I imposed the curfew, to say limit interactions.
"I think, everything is on the table but it has to follow a logical pattern and it will need the input of experts. We are not just going to lock down because everyone is locking down," he had said.